Neck Pain Relief in East Brunswick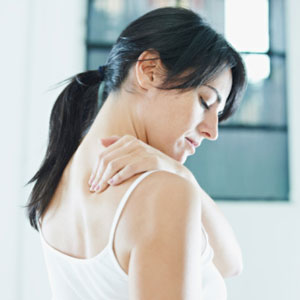 Given the time people spend on their digital devices or hunched over their desks for eight or more hours, it's no wonder so many people seek
chiropractic care
for their neck pain. At
Freedman Chiropractic
we get excellent results to relieve patients' neck pain.
Common Causes of Neck Pain
Here are some reasons why you may have neck pain:
Sitting improperly
Talking with your phone wedged between your ear and shoulder
Working at your computer
Lying on the sofa with your head propped on the armrest
Doctor manipulation of your head and neck during your birth
It's All About Subluxation
Most people with neck pain have misaligned vertebrae in the spine, irritating nerves, causing imbalanced energy flow to the muscles of the neck. This is called Vertebral Subluxation Complex, or Subluxation. Dr. Freedman checks patients completely to identify if subluxations are present. If they are, he'll pinpoint their location and determine a course of care to adjust those subluxations, improving energy to all the different parts of the body. This improves the body's ability to function much better, including its ability to heal neck pain. Oftentimes, chiropractic care works when medical care and physical therapy care have failed.
Is It Safe to Get My Neck Adjusted?
Many people who are new to chiropractic are concerned about getting their neck adjusted because they're not sure if it's safe. It's important to know that statistically, chiropractic care is the safest form of primary care there is.
"Chiropractic care is the safest form of primary care because our professional liability premiums-determined by the insurance specialists who assess degrees of risk-are a fraction of what medical doctors and physical therapists pay for the same levels of coverage. That means that natural chiropractic care is highly safe and poses less of a risk of harm to the patient, compared to traditional medical and physical therapy care. Most importantly, people who have neck pain from subluxation cannot receive proper care from an MD or physical therapist, since they are not trained or licensed to detect, locate and correct subluxation. Only a chiropractor has this kind of knowledge and expertise. Going to someone other than a chiropractor for treatment of neck pain caused by subluxation defers proper care, and can result in the condition worsening," said Dr. Freedman.
Dr. Freedman has more than 40 years of experience, has safely delivered over 5 million chiropractic adjustments, and was a professor of multiple chiropractic adjusting techniques at New York Chiropractic College. He offers techniques from the traditional "twisting and popping" techniques, to those that involve absolutely NO twisting and popping of the spinal joints. Dr. Freedman personalizes his care to each patient's clinical needs and personal preferences, so they can get the best results in the shortest amount of time safely and comfortably.
What to Expect
The first step for new patients is to take a proper history and thorough checkup to find out exactly what the cause of your issues are, and what we can do to help you. Dr. Freedman will thoroughly explain if he can help you. This involves a choice of various effective techniques that will be comfortable for you. Should chiropractic care not be the best approach for you, Dr. Freedman will recommend the right provider so you can get the type of care you need immediately.
As knowledge is power, Dr. Freedman is passionate about equipping patients of all ages with information that helps them lead healthier, pain-free lives. Because poor sleeping posture and looking down at digital devices can lead to neck pain, our chiropractor can provide recommendations on how to adopt good postural habits to prevent such pain.
Our chiropractor loves to share his knowledge about healthcare topics with his patients and the community. Please see our Community Presentations page for a listing of Dr. Freedman's informative and entertaining talks.
Dr. Freedman has expertise in adjusting the spine as well as the extremities. This includes the shoulders, feet and other joints of the body. A misaligned shoulder or foot can cause neck pain. Having expertise in adjusting all of the extremities can have a major positive impact on the recovery of a patient and their ability to have long-standing benefits.
In addition to receiving care in our practice, there are some things patients can do at home to speed recovery and help prevent neck pain from returning. These can range from applying ice or heat, to using supports. He may also suggest nutritional supplementation and lifestyle-based recommendations.
Many people with spinal problems, whether it's a neck or a back issue, have a foot imbalance. That's why Dr. Freedman also checks the alignment of his patients' feet. He'll determine if you can benefit from custom orthotics.
Book an Appointment
At our practice, we do more than just fix stiff necks and bad backs. By restoring better health and giving people safer, healthier and more cost-effective options, they can have a healthier, more enjoyable lifestyle that enables better movement, less pain and stronger resistance to illness. Contact us today to schedule an appointment!
CONTACT US

Neck Pain Relief East Brunswick NJ | (732) 254-6011