Pediatric Chiropractic in East Brunswick
Why Do Kids Need Chiropractic Care?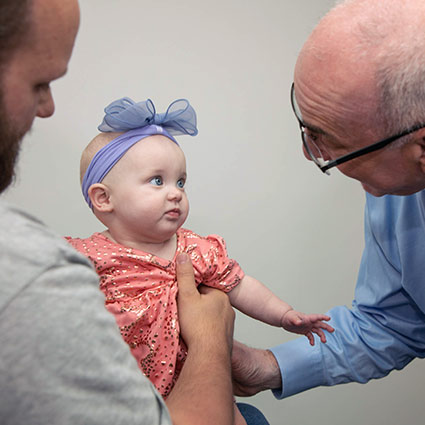 At Freedman Chiropractic, we provide safe, effective chiropractic care for kids from a few hours old through their teens. In fact, Dr. Freedman checked and adjusted his own children immediately after they were born. He believes every child deserves the same care and great start in life.
The short answer is that babies and kids who receive regular chiropractic care thrive better. Every system in the body depends on the unrestricted flow of energy from the brain to function properly. Any interference in the nervous system interrupts this flow of energy, which means that none of the other systems of the body can perform as they're supposed to. When your child's body doesn't function optimally, they are more susceptible to illnesses, don't sleep as well, don't get the best nourishment from the foods they eat, and may not hit development milestones at their full capability.
The most common cause of interference to the flow of energy over the nervous system is called subluxation. It's caused when a vertebra is out of alignment and irritates the nerves, interfering with the flow of energy between the brain and body. Two of the most common causes of subluxation in newborns and infants are first, their position in the uterus during the last trimester before their birth. At this stage, the baby is often cramped, with their neck and spine twisted. The second cause of subluxation commonly occurs during the delivery, when doctors typically pull on the baby's head and twist its neck, misaligning spinal bones and causing impaired nerve and body function.
Getting your newborn or infant checked and adjusted is important to give them the best start in life. Since babies learn and develop through their sensory experiences with the world around them, keeping their nervous system functioning optimally helps them learn better and develop appropriately. When their bodies are balanced, they have better muscle tone and so they can hit their motor skill, coordination and balance milestones on time.
School-Aged Children
Carrying heavy backpacks and sitting in ergonomically awful chairs for long hours take a toll on children's spines. Roughhousing, playing on the monkey bars and engaging in team sports also contribute to the physical stress they experience.
When your child's nervous system isn't functioning correctly due to subluxation, they're less able to pay attention and learn in school. Although they may not experience subluxations as back pain or neck pain the way adults do, their nervous system is still operating sub optimally. As adults, we know how difficult it is for us to pay attention and get our work done when we're not feeling at our best. Kids may not realize they aren't feeling "right," but clues like getting every bug that's going around, not being able to sit still in class, or complaints of frequent aches and pains can let you know that a chiropractic checkup is overdue.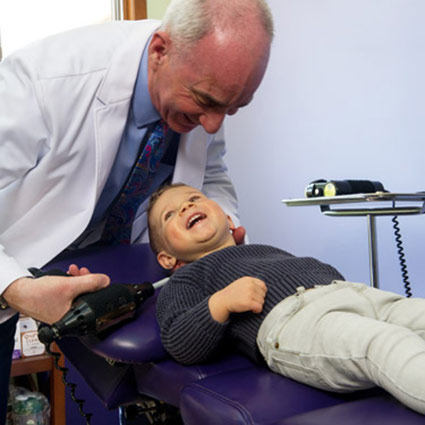 Our Expert Approach to Care
Dr. Freedman has been providing safe, gentle, individualized chiropractic care to infants and children for over forty years. He takes a vitalistic approach to care, which is a step beyond simple prevention. Vitalistic care seeks to identify and remove interferences that prevent the body from expressing as close to 100% of its full health potential. This means the patient can perform physically, develop intellectually and resist illness and other environmental dangers at the absolute highest level possible for them. Research proves that children who receive regular chiropractic care lose less time from school and have higher IQs, compared to children who do not receive regular care. Regular chiropractic checkups and adjustments are the foundation of a child's healthier growth and development from birth to adulthood.
Your child's visit starts with a health history and complete checkup, which takes about fifteen minutes. In addition to their spine, Dr. Freedman always checks kids' feet. Making sure the feet are aligned supports a properly aligned spine. If, based on his years of experience, Dr. Freedman feels it's clinically appropriate, he'll begin care at this visit after receiving consent from the child's parent or guardian.
The type of adjustments, frequency and duration of care are determined when Dr. Freedman performs the patient's checkup. Our approach to care is completely customized to each patient's needs and goals. With a broad base of expertise in a wide array of adjusting techniques, Dr. Freedman will design care that is safe, gentle, comfortable and effective for your child.
We're not the kind of doctor that gives shots or medicine. We tell kids we're going to turn their power on and have their body firing on all cylinders. Kids (and their parents) instinctively trust Dr. Freedman. He has over 40 years of experience, taught chiropractic analysis and adjusting techniques at New York Chiropractic College and was voted Best Chiropractor in 2017 and 2020 in the prestigious Home News Tribune's Readers' Choice Awards. Additionally, Dr. Freedman is a certified Backpack Safety America instructor. He can teach your child and you how to choose the right backpack, and how to pack, lift and carry it correctly.
Get Started Today
Ready to get started? Contact us today to get started with care for your child.
CONTACT US

Pediatric Chiropractic East Brunswick NJ | (732) 254-6011