Numbness & Tingling Relief in East Brunswick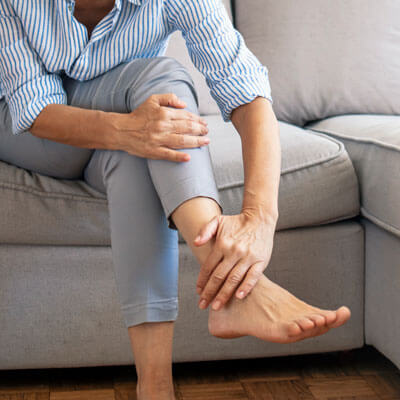 Numbness and tingling are symptoms commonly related to irritation to the nerves in your spine. When the spinal bones misalign, it can irritate nerves to the point where their normal ability to transmit impulses becomes impaired. This disruption in proper energy flow results in a disruption in your ability to feel things and move in a smooth, coordinated manner with good strength.
Typically, numbness and tingling in the hands or arms can be traced to spinal nerve irritation in the neck, since the nerves from the neck carry energy into the shoulders, arms and hands. If the legs or feet are numb and tingling, it is commonly caused by nerve irritation in the lower back.
At our practice, Dr. Freedman thoroughly evaluates the entire spine and related structures, to ensure everything is correctly aligned and the nervous system is working properly. If not, Dr. Freedman will determine where problematic areas are located, how severe they are, and the best course of care needed to help the patient heal and prevent their problem from returning.
What to Expect
We begin with a checkup. This includes your history, followed by chiropractic, orthopedic and neurological evaluations. If necessary, x-rays or other imaging may be ordered to gain additional insight into your condition. Once Dr. Freedman discovers exactly what the cause is, he will report the findings and recommend the best course of action for you to get the best results-safely-in the shortest amount of time and at the least expense.
Ruling Out Other Conditions
If Dr. Freedman sincerely believes he can help you, he will explain how chiropractic care will help you heal and prevent your condition from returning. If Dr. Freedman has determined that the cause of your numbness and tingling requires medical intervention, he will refer you to the appropriate medical provider for treatment immediately.
Gentle Adjustments
If chiropractic care is required, Dr. Freedman has specialized expertise and proficiency. In fact, he was a professor of chiropractic technique at New York Chiropractic College. Dr. Freedman's patients benefit from a variety of chiropractic techniques he offers, from the traditional "twisting and popping" methods to techniques that involve absolutely no twisting, popping or cracking of the spinal joints! All chiropractic care provided by Dr. Freedman is personalized based upon the patient's clinical needs and personal preferences.
How long will it take to get better?
It depends upon a number of variables that are considered for each patient: Was there an injury?…Is there premature decay and degeneration in the spine?…How strong is the recuperative power of the patient?…How well will the patient comply with Dr. Freedman's recommendations?…Every patient is unique and should be approached as an individual. "In my office, I am passionate about caring for each patient with the highest degrees of honesty and professionalism, as I would expect to receive from another caring provider who is focused on what is in the best interests of the patient," said Dr. Freedman.
Dr. Freedman has helped people suffering with numbness and tingling for over 40 years. During his career, he has delivered over 5 million chiropractic adjustments, and treated many thousands of patients. In fact, Dr. Freedman reports that 85% of the patients he accepts notice improvement after their very first adjustment-and the benefits go beyond relief of numbness and tingling. Patients report less pain, with better ease of movement. Many patients also report feeling more energy, sleeping better, having a better mood, and healthier, more regular bowel movements.
A chiropractic checkup and care is very affordable, much safer, and less time intensive compared to drugs, physical therapy, and surgery. Chiropractic patients also report much higher satisfaction rates compared to the care they received from medical providers. Most insurance covers chiropractic care, and many patients use funds from their Health Savings Account (HSA) or Flexible Savings Account (FSA) to pay for their services. Cash and personal checks are also accepted. You will find that especially in today's impersonal, managed care healthcare landscape, Dr. Freedman's fees are extremely reasonable, considering his years of experience and the high quality of service his office provides.
Book an Appointment
If you're experiencing numbness or tingling, we want to help. Contact Freedman Chiropractic today to book an appointment. In most cases, we can see patients the same day or the next day.
CONTACT US

Numbness & Tingling Relief East Brunswick NJ | (732) 254-6011