Shoulder Pain Relief in East Brunswick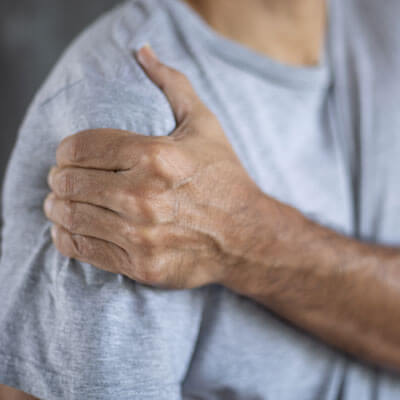 Pain in your shoulder can be triggered for many reasons. You might have slept incorrectly, or you could have tweaked it while doing yard work or another chore. Sometimes shoulder pain is due to carrying a shoulder bag or backpack. It can even stem from misalignment of other areas of your body, such as your lower back, called referred pain. Unless you have suffered an accident or injury, most shoulder pain results from neglecting the need to periodically identify and remove the most common cause of shoulder pain.
How Chiropractic May Help
Dr. Freedman has specialized expertise to evaluate the function of the spine, shoulder and related areas. If the spine or the shoulder are out of alignment, Dr. Freedman can adjust the neck, shoulder, and other involved structures to relieve pressure off of nerves, improve alignment, and enable the body to self-heal and function much better.
Dr. Freedman offers a variety of adjusting techniques, and provides safe and comfortable
chiropractic care
based on each patient's personal preferences and clinical needs. He may also recommend therapeutic stretches and exercises to complement your chiropractic care and speed your recovery.
At Freedman Chiropractic, we're looking at the underlying cause of most shoulder pain – a subluxation. Subluxations alter the flow of proper energy when the spinal bones misalign and irritate the nerves that carry the energy. Why is this important? Subluxations interfere with your body's capacity to self-heal, and prevent your muscles and joints to work at their very best. So, how can your shoulder pain heal if your subluxations remain uncorrected? It can't.
Adjusting the subluxation and removing the interference allows your body to express closer to its optimum levels of physical, mental, and social well-being. That well-being includes your ability to heal, move, be more resistant to the stresses that you encounter daily, and prevent problems like shoulder pain from developing in the first place.
When it comes to shoulder pain, most times the subluxation is located in the neck region. Sometimes, the shoulder can also be out of alignment.
"Some people think that if they just ignore their condition, over time it will improve on its own. That's not the case. Any time you delay proper care, for whatever reason, it always allows for more severe damage and an increasing severity of the problem, which may require more extensive and invasive forms of treatment because it's worsened.
More people these days realize that instead of treating the symptoms and suppressing them with drugs or therapies, it makes more sense to remove the interferences to better healing naturally. This involves chiropractic care," said Dr. Freedman.
Book an Appointment
You don't have to suffer from shoulder pain. Contact Freedman Chiropractic today to schedule an appointment!
CONTACT US

Shoulder Pain Relief East Brunswick NJ | (732) 254-6011